Saivite Temples - Vellore District
Somanatheeswarar, facing east
Dhanumathaya Ambal, facing east
63 Nayanmar, Selva Vinayakar, Muruga with consorts, Dwaraganapathi, Vallalar, Gajalakshmi, Rajarajeswari, Saneeswara, Bhairava, Navagraha, Surya, Sarveshwara. Sanctum Niches – Ganesha, Dakshinamurthy, Maha Vishnu, Brahma, Chandikeswara, Durga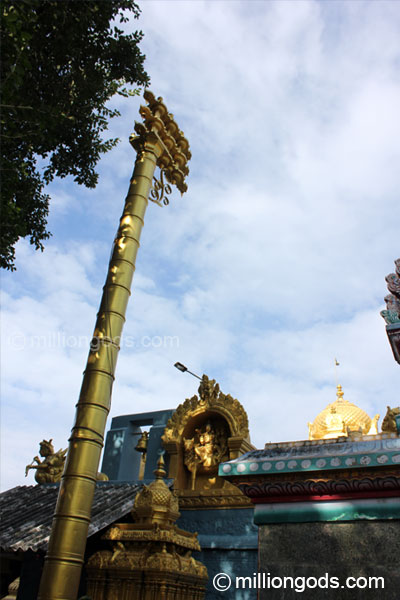 Somanatheeswarar Timiri is an old temple, but historical information is not available as of now. In recent times one Mr.A.S.Radhakrishnan got instructions through old manuscripts in Thanjavur about a Paashana Lingam hidden in the temple tank of Somanatheeswarar Timiri. He retrieved it from the tank from a depth of about 32 feet on 14th June 1985. The Lingam had been protected for about 500 years by a coat of Beeswax, Maalpachai, and a Tortoise shaped outer shell. These palm leaf inscriptions also provided the necessary instructions pertaining to the temple construction also on the banks of the Tank under a Peepal Tree. Kumbabishekam was performed to this new temple in September 2005.
During the Vijayanagara period, a local king called Sadhashivaraya was ruling the area and this village near Arcot was then called Divakarayar Ellai. The people under his rule were suffering from a wide-spread epidemic. He consulted about this with 'Raja Panditha Sironmani, Manthira Vaidhya Kesari' Kannika Parameswara Andhanar, who was the Raja Vaidhyar (Royal Doctor) of his kingdom. The doctor adopting Dhanvantri methods created a Lingam with a combination of Chandra Paashanams (including the main ingredient called 'Timiri') and called Somanatha Easwara Paashana Lingam. The lingam was installed in Timir Fort by Sringeri Mutt's 12 Acharya Sri Vidyaranya Swamigal in 1379 CE. Later, during the Muslim invasion, the royal doctor protected it from the invaders and hid it in the temple tank in the year 1454 A.D. He tried to escape but was captured by the invaders and executed under an elephant. He is believed to have sworn before dying that if at all he has another birth he will rescue the lingam and will reinstall it. It is also said that the emergence of this lingam was predicted by great Saints including Vittobha Swamigal, Seshadri Swamigal and Poondi Mahaan.
Somanatheeswarar Timiri is 10 kilometers south of Arcot and 17 kilometers north of Aarani in the road connecting the two towns.
None locally. Closest are Arcot and Ranipet where small restaurants are available.