Others Temples, Chennai District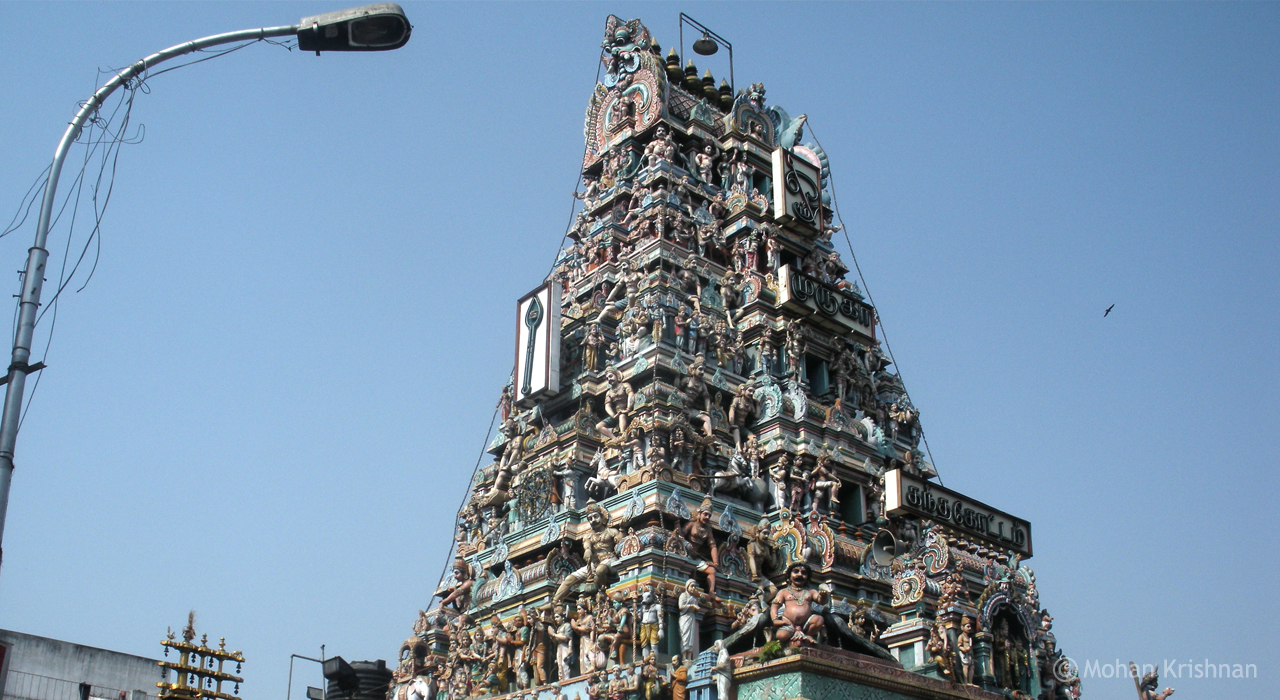 Muthukumaraswamy
with Valli and Devayanai
Ganesha, Kulakkarai Vinayakar, Kasi Viswanathar and Kasi Visalakshi, Nataraja, Navagraha, 63 Nayanmar, Sarva Sidhdhi Vinayaka, Meenakshi Sundareswara, Idumban, Ramalinga Swamigal, Pamban Swamigal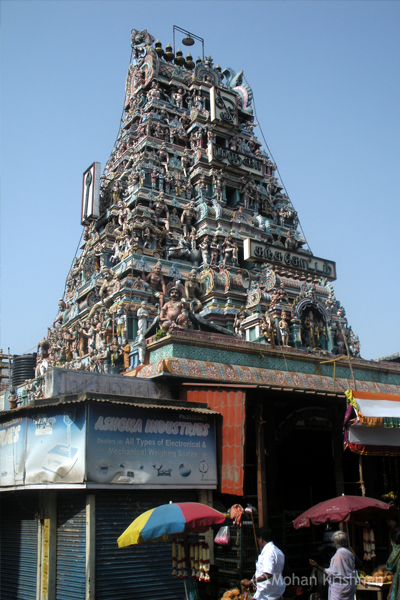 Built in 1672 by two devotees as a small temple, Kandaswamy Pookkadai is east facing with a 5 tier Rajagopuram in the north and temple tank to the west of campus. Later when the original structure of this temple fell into disrepair the existing temple was built with stone about 200 years ago. These facts are all recorded in a stone inscription in the temple. Later, the Rajagopuram was constructed by one Kali Rathna Chettiar. Extensive renovations have been done in recent times. Kandaswamy Pookkadai is associated with the life of the well known Saivite Saint Ramalinga Swamigal (1823 – 1874) who lived in this area and composed his Deivamanimalai here.
In the seventeenth century there were two ardent devotees of Lord Muruga Mari Chetty and Kandapandaram, who used to visit Thiruporur Sri Kandaswamy Temple, a famous centre situated on the Madras- Mahabalipuram Road. Once when they reached Thiruporur they were very tired and decided to take rest under a neem tree near a tank. They had a divine dream in which Lord Muruga appeared and informed them that they would find an idol of Himself in an ant-hill on the tank bund, which they could take to Madras City and worship. Accordingly the two devotees discovered the idol and brought it to Madras and a person called Mari Chettiar built Kandaswamy Pookkadai temple.
Kandaswamy Pookkadai is in Rasappa Chetty street in flower bazaar area of Parry's and is well known as Kandaswamy Kovil.
There are some old and famous restaurants around, but they are scattered and you need to travel around in a cycle rickshaw. Agarwal Bhavan, Ramakrishna Lunch Home, Shankar Cafe, Saravana Bhavan, Hot Chips restaurant and a host of road side shops too. Staying in this locality is not advisable unless you really want to experience the crowd, dirt and noise.