Balasubramaniaswamy Thachoor
Other Temples, Thiruvallur District
Balasubramaniaswamy, facing east.
Kasi Viswanathar and Kasi Visalakshi
Kasi Viswanathar and Kasi Visalakshi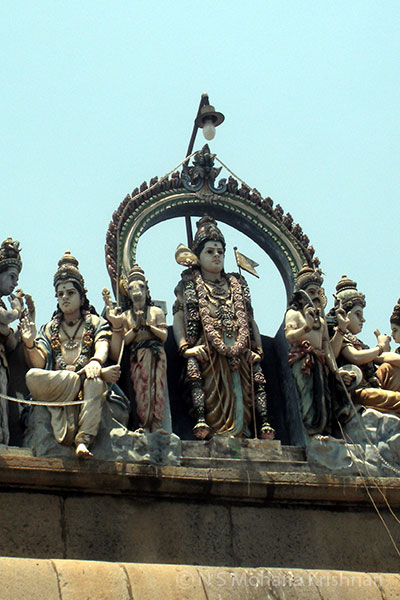 The local Thevar community built this Tachoor Balasubramaniaswamy Temple after clearing a forest about 300 years ago. Andi (Thevar) Kuppam became Aandar Kuppam over time. The beautiful east facing temple beckons you with a 5 tier Rajagopuram. Excellent sculptures, though of modern times with colorful paints make the Rajagopuram, Entrances and Vimaanas look beautiful. the Muruga idol is in an authoritative posture with one hand on the waist and Brahma facing him. Arunagirinadhar has visited this temple
Muruga is believed to have cut the Asura Sooran into two like a carpenter (thachan in tamil), thus the name Thachoor. He is believed to have asked the meaning of creation to Brahma and imprisoned him here. As per the history of the temple the idol here is supposed to look like a child (Bala Roopa) in the morning, an adult (Yowana Roopa) in the afternoon and an older person (Virutha Swaroopa) in the evening.
Another legend is that cows grazing in the area were found giving up milk in a bush in the forest and upon digging the Muruga Idol was found and a temple built after clearing the forest. A Mohammeddan commander passing by heard the greatness of this lord and assured the locals that he will give a reward if successful in his mission. He donated lands to the temple later.
On the Chennai-Kolkatta highway, take a right at the Thachur Junction and proceed for 2 kilometers to see the temple tower of Balasubramaniaswamy Thachoor on the left. It is advisable to combine with the Ponneri temples. Public transport is available in plenty. Ponneri railway station is well connected with local buses and autos
A simple and nice meal can be had at Balaji Hotel (small and insignificant looking) at the beginning of the Minjur Road in Ponneri