Other Temples, Thiruvallur District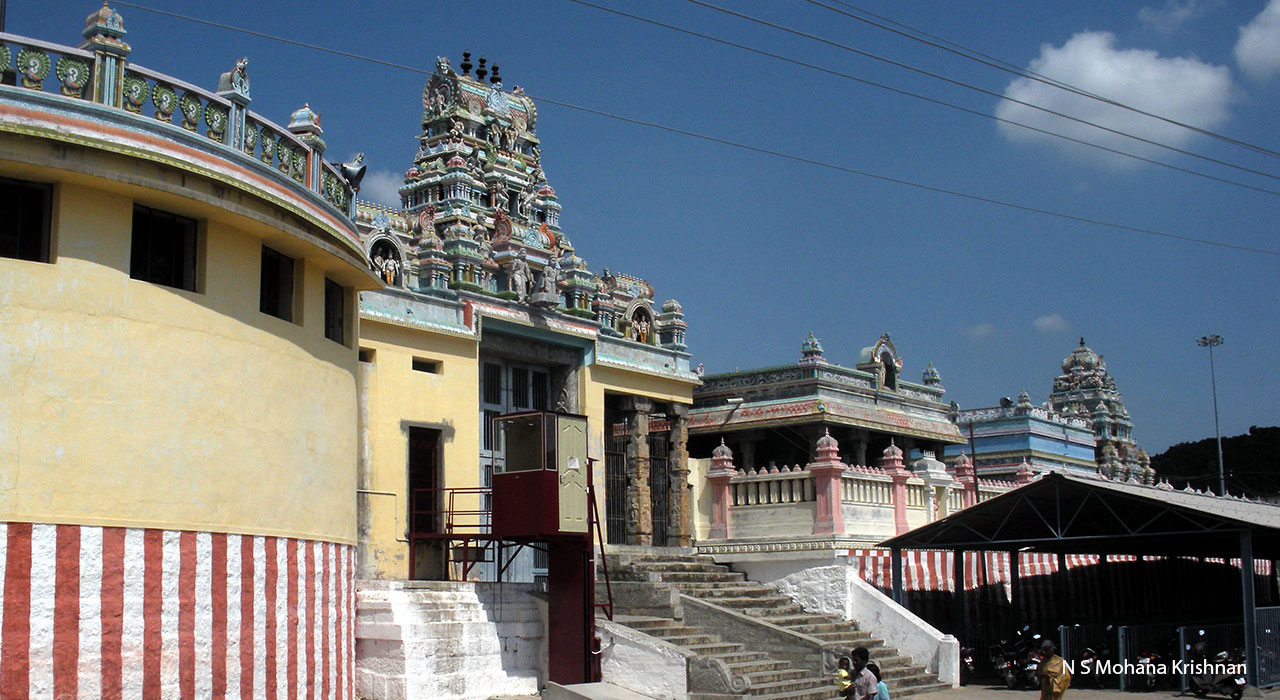 Sumathreeswarar, Bhairava, Kumareeswarar, Tirumoolateeswarar, Kalatheeswarar, Balasubramaniaswamy, Kailasanathar, Shanmuga, Abathsagaya Vinayagar, Nava Veeras, Veerabadra, Surya, Ekambareswarar, Arthanareeswarar, Arunachaleswarar, Prasanna Kadhareswarar
Murugan Tiruttani is estimated to be about 2000 years. Murugan Tiruttani temple has been mentioned in the Sangam period (200 BC – 300 CE) work Tirumurugaatruppadai composed by Nakkeerar. Murugan Tiruttani  has been patronized by the Vijayanagar rulers, local Chieftains and Zamindars. Hymns have been rendered by Arunagirinadhar (5th century CE), Ramalinga Swamigal and Muthuswamy Dikshidhar.
Muruga is said to have relaxed and cooled down here at Murugan Tiruttani after his furious war with Soora, an asura. He is believed to have married Valli and Devayanai here at Murugan Tiruttani. Lord Indira offered Airavata his white elephant as a wedding gift to Deivanai. Subsequently his prosperity waned and he prayed to Lord Muruga to allow the elephant in the shrine to turn the other side so that his fortunes will change. The Lord obliged and thus you see the elephant in front of him facing the other side. He is also believed to have imprisoned Brahma here when he did not know the meaning of the mantra 'Om' and later released him.
Tiruttani is a well known town on the Chennai to Thiruvallur-Tirupati road and about 85 kms from Chennai. Plan to reach the Murugan Tiruttani temple in the mornings or evenings and climb up. The temple is very crowded during festival and important days. Vehicles can go to the top of the hill.
There are a few vegetarian restaurants at the base of the hill just before the hill road entrance.